Whether you are experienced in investing in growth stocks, or just learning how to read stock charts, it's clear that the better information and more tools you have available, the better your chances of success. One of these indicators is Relative Strength (RS) in stocks.
To be more precise, the above mentioned tool is MarketSmith India (MSI)'s
Relative Strength (RS) Rating
. The RS Rating is typically used along with a RS line. Drawn in every MSI chart in blue, the RS line tracks a stock's performance versus BSE 500. The RS Rating gauges a stock's strength compared to the entire universe of listed companies. An RS Rating of 85, for example, indicates that over the past 12 months, a stock has been outperforming 85% of the listed companies. Hence, higher the rating higher is its out-performance.
You can find the RS Rating of stock at MSI Stock Checkup page. This information is particularly good to know just ahead of strong
breakouts
. Growth stocks with RS Ratings below 80 generally aren't showing the kind of market out- performance you'd like to see at the point of breakout. There could be better stocks out there to find.
Avenue Supermarts:
On September 16, the stock broke out of its 37-week-long
cup-with-handle base
on above-average volume. It had an RS Rating of 86 and was trending up. Since the addition, the stock has had good demand from investors and hit 20% profit in just one week.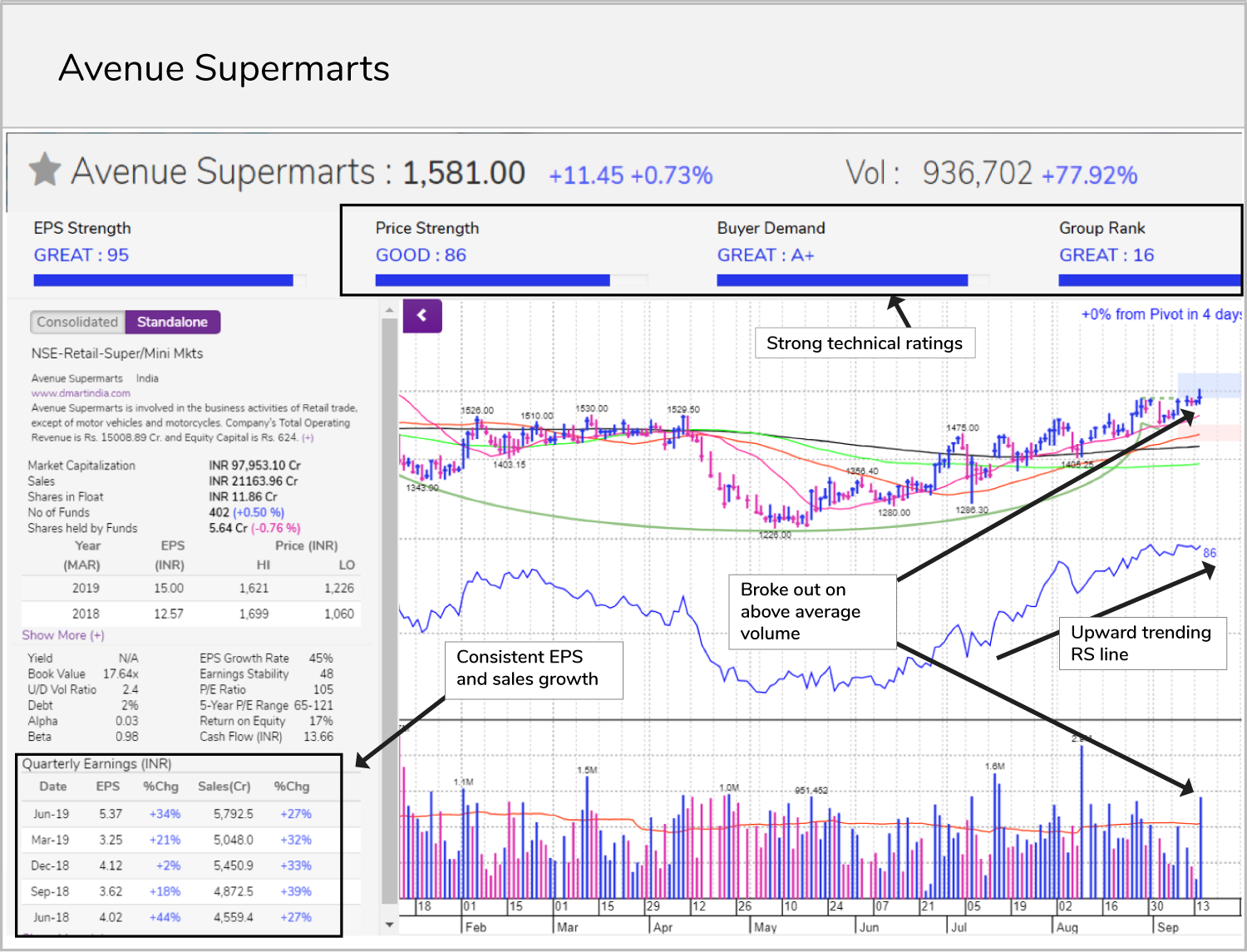 In conclusion, Relative Strength of stocks is an important indicator of the financial health of shares.
Disclaimer
Information contained herein is not and should not be construed as an offer, solicitation, or recommendation to buy or sell securities. It is for educational purposes only.