The slowdown in the NBFC sector was triggered after some key clients defaulted on payments.
Weaker lenders (over 1,700) have lost their NBFC licenses. Market share will likely get consolidated among the leaders.
Share of bank borrowings increased 520bps to 29.2% in last 9M to March 2019; Commercial papers (CP) share declined 220bps to 7.6% in the same period.
Cost of funds has increased by 50-100bps in last 9M for smaller NBFCs. It has increased for key players too but is more limited (for example, it is up only 10bps for Bajaj Finance).
Asset quality of the NBFC sector has deteriorated 80bps in FY19. However, select companies managed to escape the impact.
Key risks in the sector: NBFCs with exposure to clients that have defaulted on payments are struggling with asset liability management (ALM) issues.
The slowdown in NBFCs could have a contagion effect on other sectors like Auto and Housing. According to the Reserve Bank of India (RBI), it is not clear when the NBFC crisis will end but they are trying to avoid a contagion effect.
Based on O'Neil Methodology, stocks of Bajaj Finance, HDFC, Muthoot, and Manappuram Finance are placed best among the sector.
Key Clients' Payment Default Triggered Decline
Some of the major companies defaulted on their repayments to its lenders during the second half of 2018. This triggered asset-liability management issues of non-banking companies.
Assets for NBFC companies are loans such as home loans, vehicle loans, and personal loans given to clients, ranging from individuals to SMEs to corporate companies. Normally, these are long-term loans (more than a year). On the liability side, CPs are issued to raise funds for short-term requirement (less than a year). With some major companies defaulting payment on CPs, issuance declined post September. Issuance of CPs by NBFCs has declined to approximately Rs 500B in March from around Rs 900B in August 2018, according to the financial stability 
report
 by RBI (1).
Due to shortage of funds, ALM issues have emerged. NBFCs with ALM problems have slowed their new loan disbursals, and have created a shortage of credit for many sectors.
Weaker lenders (over 1,700) have lost their NBFC licenses - Market share is likely get consolidated
In order to tackle the problems in the sector, the RBI cancelled licenses of over 1,700 NBFCs in FY19, compared with just 26 in the previous year. Of these, about 779 were cancelled in October-November alone, just after the crisis started.
These measures will weed out incompetent players from the system, and the market share is more likely to be consolidated among a few major companies.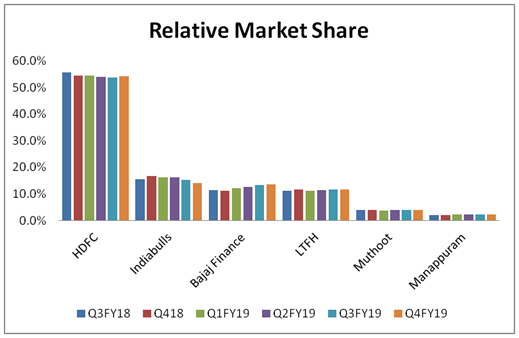 Bajaj Finance's relative share has increased the most 240bps to 13.6% in the last year. Indiabulls Housing Finance lost the most, 250bps to 14.2%. The shares of other companies remained the same.
Cost of funds has increased in the last three quarters:
Due to decreased demand for CP issuances, the companies which are troubled with ALM issues had to raise funds at higher interest rates. L&TFH, Indiabulls Housing Finance, and Muthoot saw their cost of funds increase by 30-60bps in the last nine months. However, companies like Bajaj Finance continue to raise funds at similar rates.
Share of bank borrowings increased 520bps to 29.2% in last 9M to March 2019; CP share declined 220bps to 7.6% in the same period
NBFCs (barring a few) differ from banks in terms of raising funds; they can't depend on low-cost CASA (current account and saving account) deposits. Major banks have a CASA ratio around 45%, and the costs of saving account deposits are around 5%.
NBFCs raise funds through bank borrowings, bonds, and the commercial paper route. Public funds make up to 70% of their total liabilities. Therefore, cost of funds for NBFCs (8%-10%) will be higher compared with banks (6%-8%).
Due to the decreased demand for CPs, the interest rates on these instruments have spiked. Hence, the NBFCs turned to banks for funding. Share of funds from bank borrowings has increased from 21% in 2017 to 23.6% in 2018 and further to 29.2% in March 2019. Share of funds from CPs declined to 7.6% in March 2019, from 9.8% in June 2018 (1).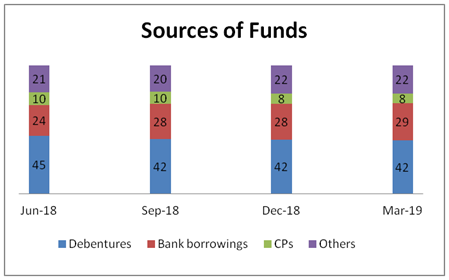 Asset quality of NBFC sector deteriorated; select companies managed to escape impact
Gross NPA of NBFC sector deteriorated to 6.6% in FY19 from 5.8% in FY18 (1). NBFCs are known for lower NPA levels (1%-6%) compared with banking peers (2%-10%). Capital-to-risk weighted assets ratio (CRAR) has also declined to 19.3% in FY19 from 22.8% a year ago. Higher the ratio higher is the stability and financial efficiency of a company. To protect depositors' interests and stability of a NBFC, the regulator has stipulated a minimum CRAR ratio of 15%.
Only Muthoot and Manappuram Finance saw decline in GNPA ratios. However, the latter has the highest GNPA level compared with others. Bajaj Finance, Indiabulls Housing Finance, and HDFC had a 10-15bps increase in their GNPA levels, from Q1 to Q4 of FY19.
Following stocks stand well based on O'Neil Methodology:
1.Bajaj Finance
Bajaj Finance is a leading NBFC in the country. It has a diversified product portfolio varying from consumer to commercial to rural to payments to SME and mortgage segments. Even though there were macro headwinds like tighter liquidity and rising interest rates, company-specific factors like at par underwriting, risk assessment mechanism, and agile monitoring helped the stock revive.
O'Neil Methodology:
The stock broke out of its cup-with-handle base in February. It advanced nearly 40% before forming a climax-top. Currently, it is trading below its 50-DMA and found support at 100-DMA. From the current base, the stock looks extended from pivot - it is better to wait for the stock to form a new base and add to positions at its breakout.
The Company 
reported
 consistent double-digit growth rate of sales and EPS and as a result has a strong EPS Rank of 96. Due to its recent correction, its RS rating has slightly declined to 93 from 96 a month back. Its institutional sponsorship has improved as number of funds invested rose 15% y/y to 591 funds.
2.Housing Development Finance Corporation
Housing Development Finance Corporation is a leading housing finance company in India. Since inception, it has financed over 7M housing units. At the end of FY19, it has outstanding loans of Rs 4,619B. With rising annual income, affordability towards housing has improved in India. Being a market leader in the housing finance space among non-banks, it can capture the rising mortgage market in India.
O'Neil Methodology:
The stock retook its 50-DMA on August 9 and is trading 11% above its 200-DMA. Fresh positions can be taken given the market is in a Rally attempt. On the downside, a breach of its 200-DMA should be taken as a sign of technical weakness to exit the scrip. It has a fairly good technical profile, with a strong RS Rating of 89, but its Up/Down Volume ratio of 0.7 indicates selling pressure.
3.Muthoot Finance
It is the largest gold financing company in India in terms loan portfolio. Its core product is gold loans. Other services include money transfer services, personal loans, and white label ATMs. With over 4,400 branch offices, it is spread across the country. As of March 31, its AUM is at Rs 34,246 crore.
O'Neil Methodology:
The stock had a relatively smaller correction of 25% in the September-October period. Since then, it has broken out of its bases three times. Currently, it is trading in a flat base, and recently retook its 50-DMA. Price strength has improved and is at 94, with a good buyer demand rating of B. The Up/Down Volume ratio is at 2.4 compared with 1.7 in June. The institutional sponsorship for the stock has also improved to 189 in March 2019 from 163 funds in March 2018. The stock is about to break out of its base - long positions can be added if the breakout occurs on heavy volume and other factors remain conducive.
4.Manappuram Finance
It is one of the leading gold loan companies in the country. Utilising its surplus capital, the Company has introduced new products like microfinance (MFI), auto loans, mortgage & housing finance.
O'Neil Methodology:
The stock has broken out of its flat base recently and is trading below its 50-DMA. Fresh positions can be initiated if the stock retakes its 50-DMA on above-average volume. It has 
reported
 consistent double-digit sales and EPS growth rates and has a top EPS Rank of 95. Price strength of the stock is very good at 90, indicating the outperformance of stock price with the overall market.
The Importance of non-banks to the economy:
NBFCs played a pivotal role in India's growth story in the recent past. They are the source of funds, especially for the unbanked and economically weaker section population. They also lead in financing micro and small medium enterprises (MSMEs) which help in inclusive growth. This in turn aids in employment generation.
Even though, there were issues within the sector, it continued to grow at a healthy rate. The balance sheet of NBFC sector grew 20.6% in FY19, compared with 17.9% in FY18. However, net profits took a hit, as PAT for the sector grew at 15.3% in FY19 compared with 27.5% in FY18 (1).
Growth drivers for the sector:
India is still an under-penetrated market: According to BIS statistical bulletin, India's household credit to GDP is around 11%, lagging several major economies like China (~50%), the U.S. (~75%), and Switzerland (~125%). This indicates the under-penetration of credit in India. It is a major opportunity for banks as well as non-banks to increase their portfolio size. Non-bank companies with their customized product offerings and deep understanding of the market are poised to capture a bigger share.
SME credit is expected to grow at 23%-25%, mostly because of the increase in working capital requirement after the implementation of GST. Most SMEs have limited access to banks. Availing credit from NBFCs is easier for them because of lesser paperwork.
NBFCs have good understanding of the customer segment and are present in tier-3 and tier-4 markets as well. It is difficult for banks to reach out to these customers. These markets pose a good opportunity for non-banks.
The ability to cross-sell various products and maintain healthy margins will be the next stage growth driver for these companies.
Impact of NBFC slowdown on other sectors:
The share of NBFC/HFCs funding to developers increased to 58% in FY18, compared with just 36% in FY12. A slowdown in the NBFC sector hampered financing for the developers. This is one of the major reasons for slowdown in real estate sales apart from demonetization and issues of low-returns from properties.
According SIAM, the industry body for auto sector, about 70% of two-wheelers and 60% of commercial vehicles are financed by NBFCs. Passenger vehicles sales fell ~18% in Q1FY20. As non-banks are struggling with liquidity crisis, they are unable to finance loans to the auto sector. Therefore, the crisis in NBFCs had a contagion effect on the auto sector as well. It is estimated that there was around 60% y/y decline in auto loans in FY19 by non-banks.
Some of the stocks' performance in the last one year:
Risks:
NBFCs have a disadvantage against banks, as they depend on the latter for funding. Therefore, they cannot issue loans at competitive rates, when compared with the banks.
Some of the NBFCs are able to raise funds by tapping public issues, but smaller firms are finding it difficult to do the same. Due to lower rating of its instruments, they are seeking alternate funding route at higher interest rates, which impacts margins.
NBFCs which are more or less matched in terms and asset and liability duration are poised for growth. If these companies are able to raise funds at normal rates, then the margins will stay intact. On the flip side, business models which have ALM issues could come under stress.
The road ahead and RBI's intervention:
NBFCs played an important role in the growth of the Indian economy and their share of outstanding credit increased to 12.6% in FY18 compared with 10.8% two years ago. They are the source of funds for the unbanked. For smoother functioning of unbanked population's financial activities, credit flow from NBFCs is a must. Therefore, it is important for the economy to resolve the prevailing credit crisis in the NBFCs.
However, this weakness among non-banks can be a fillip to private banks. They can focus on tapping more people to increase their market share with their existing network.
The following steps have been taken to tackle the problems in the sector
Deposit taking and systematically important non-deposit taking NBFCs can pay their tax after they receive interest for certain bad or doubtful debts. As of March, out of 9,659 registered NBFCs, 88 are deposit taking and 263 are systematically important non-deposit taking NBFCs (1).
RBI has eased the norms for securitisation, selling securities (backed by assets) to investors to raise money. This relaxation enables a greater proportion of their loan book to be available for securitisation. Therefore, these entities can raise more funds to ease the situation. However, these are raised at higher interest rates, and therefore impact profit margins.
In FY20 Budget, the FM proposed to amend the RBI Act, 1934, to empower the central bank to regulate NBFCs more. The regulator can supersede a board of directors, remove auditors, have a say in compensation, and can call for an audit.
The Finance Minister (FM), during the FY20 budget, proposed the government to encourage PSBs to buy high-rated assets of financially stable NBFCs. This move will increase funding availability for non-banks.
To weed out weaker NBFCs, the RBI can raise the mandate of net-owned funds (NOF) to Rs 100 crore from the current Rs 2 crore.
According to the RBI governor, the crisis in the sector isn't finished. The RBI is monitoring the situation to avoid contagion effect on other sectors.